Where in The World is Dr. Clay?
What a significant year for The Quest Project®, and for me personally!  Life is a journey and when you allow yourself to grow and expand, it will enhance your mission.
Meeting a New Friend
When Peter McGennis, filmmaker/producer from Buffalo New York, contacted me about featuring The Quest Project in his upcoming documentary "Within Reach" I was admittedly skeptical.  First and foremost, my responsibility to the program is safety!  We proceeded to move the conversation forward with caution!
What I discovered was a genuine interest from Peter to understand when our adolescent boys began to fall behind, and why they are suffering from anxiety and depression etc.
After many lengthy discussions and history of rites of passage, he got it!
"Roadie"
As you know, I read, write, facilitate and research on a regular basis; I'm happy to add that I am now traveling the country observing other men/boys' programs and learning how other organizations approach healing.
The crew of "Within Reach" as well as the facilitators of these organizations have asked me to join them, and I couldn't be more honored, now I have the opportunity to add to my research by this experience.
Fire Mountain
The filming started here in St. Louis in June; next stop in July was "Fire Mountain-A Residential Treatment Center for Troubled Teens" in Estes Park, Colorado.  Founder Aaron Huey is rooted in traditional Nordic history; he does great work utilizing visual and physical processes which all boys and men need!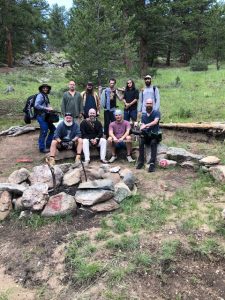 (Aaron and his "circle of men" on film day)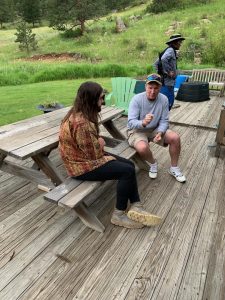 (Dr. Clay imparting some wisdom to young man in Colorado)
Hands on Experience
When I started The Quest Project in 2000, I designed it to provide processes of a modern-day rite of passage.  I have modified it over the years in order to stay relevant to the challenge's adolescent boys face.  I now can see firsthand how others do the same.
We'll head for San Diego in September, and plan to visit 9 more destinations before the filming is completed.
What will I discover, who will I impact, how many lives will be changed…mine included!
Stay connected here, on Facebook and twitter to find out as I take you along with me on this very important journey!